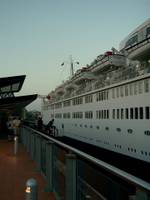 I had been reading how every 2 years at least the QE2 is refurbished... and we had read somewhere about a 2004 refurbish... so was pleased when came across a posting in cruisecritic from Jon that outlined what it was. (and in just 3 days we will be able to see for ourselves..!!!)
he wrote: It happened in May: "The following areas of the vessel will be upgraded during the 2004 refit period, a brief description of proposed follows:
01.Penthouse Alleyway & Stairs: Boat, Sun & Signal Deck
Enhancement will include new: Axminster carpet, decorative bulkheads, new curtains (pantry areas) & wall lights. Stairway ceiling and cabin doors architrave & trims will re painted to match new dado & bulkhead coverings. All polished stair woodwork on Boat, Sun & Signal deck will be sanded down & varnished / painted. Seat on Signal deck level will be fully reupholstered with new fabrics. New cabin # signage ADA compliant.
02.Open Decks enhancements
02A Sun Deck Bar
Enhancement will include new: Teak decking (approx. 200 sqm), Awning (86 sqm), a stretched canvas ceiling with teak frames, a raised band stand with a sound & light system, a new USPH-approved Bar (teak façade) with under-counter with 2 taps draught beer, a coffee machine, 2 refrigerators, a soft Ice cream machine self service, Five (5) barstools, (7) teak tables and (28) chairs, (200) new steam chairs cushions for Fidus Loungers, a set of teak store cabinets & stainless steel bins. New deck signage.
All the teak doors will be refinished as well.
02B Upper Deck
New loose furniture (5) new teak tables and (20) chairs will be installed.
02C First Deck: Swimming pool
Enhancement will include new: Mosaic Domus non-slip ceramic tiles surrounding the pool, teak compartments, stainless steel bins, towel drop & towel storage rack. Teak decking surrounding Jacuzzi will be renewed as well.
03. Mauretania & Britannia restaurant
Mauretania & Britannia small percentage of Dampa ceiling will be replaced and re painted electro statically. New wall covering will be laid on the both forward & aft bulkhead. New air conditioning deflectors will be fitted in the Britannia Restaurant.
05.Golden Lion Pub Enhancement will include a new audio-visual system with plasma screen.
06.Queen room & Promenades
Inboard alleyway enhancement will include new: Axminster carpet, decorative laminated panels & vinyl covering, wooden handrail with stainless brushed brackets and dado moldings. A new Dampa ceiling & lighting fixtures will be installed as well.
Starboard side Promenade will have new decorative acoustic panels with new hanging system provided by concessionaire, carpet and ceiling re painted electro statically.
Queens Room dance floor will be sanded down, cleaned and varnished to a color match of existing wood bulkheads.
07.Yacht Club
The existing vinyl dance floor will be replaced by new real wood parquet Merbau 20 mm and varnished.
10. Five Deck Alleyway
All corridors and cross alleyways on deck Five will be laid with a new Axminster carpet: Full basket weave. Car entrances new vinyl floor will be laid as well.
Carpet ship program:
New Axminster carpet will be laid in the stairwells D, E & G (approx. 850 sqm)
12. Penthouse & grill cabin upgrade
Enhancement of 70 cabins will include: new upholstered non-combustible panels with new fabric
(34 cabins), Dresser tops refurbished with a strtaflex covering (15 Cabins) and sanded & French
polished (21 cabins).
14B P-grade bathroom upgrade
Enhancements in 29 bathrooms will include new:
Non-slip ceramic Domus Pebble 300x300 tiles to the bathroom floor. All bulkheads will line out with melliminium panels & associated trims. New solid phenolic bath & vanity panel will be provided. Bathroom door, frame & architrave will be refinished. Deckhead will be re-painted as well.
Vanity unit will be thoroughly refurbished with Strataflex, new armitage Shanks, white, and single Portman wash hand basin. Bath Tub will be refinished with custom epoxy coating color white Toilet Pan & flush valve will be refitted. New Armitage Shanks Bakasan toilet seat & chromed shaver socket to vanity unit. New Hansgrohe Metrix mono block basin tap & associated pop up waste will be fitted as well
15. Public Restrooms
Pub Gents toilet
Pub Ladies toilet
Caronia ladies toilet upgrade
Lido gents toilet
Lido ladies toilet
A complete refurbishment of the Public Restrooms will include:
New non-slip 2 color diamante verde & Crème ceramic tiles to the deck & skirting
Deckhead:
Existing Dampa ceiling will be electro statically re painted & new extract diffusers installed
Bulkhead:
New mosaic decorative tiles will installed to all bulkhead previously laid up with tiles Laminated surface will be laid up with Muraspec vinyl covering and seamed properly with "Kemweld" seal product.
Doors, vanity unit & toilet cubicles will be fully refurbished with a new laminate & Strataflex vinyl film. New framing mirror, toilet pan & urinal bowl will be fitted as well.
Lighting:
New deckhead down lighters & vanity unit bulkhead light fixtures will be installed
16. Hair Dressing Salon
The Steiner's Salon conversion will include new:
Office, Treatment room Frangipani, Reception desk with a green glass top, two manicure stations and a Solace Altera pedicure chair. New carpet Weston Royal Design in reception & office and new ceramic tiles will be laid to the entire hair dressing salon area.
Deckhead:
All lights fixtures will be replaced and new lighting with dimmer control will be provided to Frangipani Room. New Dampa ceiling will be fitted for the new rooms converted and the rest re painted thoroughly
Fixed Furniture:
Hair styling, wash & dryers stations will be fully refurbished with Strataflex coverings
Loose furniture:
Hair drying sofas, hair Styling and hair washing chairs will be reupholstered in Petco Griffine Vert
17. Cunard Royal Spa upgrade& Pool Deckhead
Enhancement will include new: Barrisol ceiling to the entire pool area, a Cunard mosaic tiles to Shower base & bulkhead enclosure located beneath the ceiling, All chromed & stainless steel metalwork will be thoroughly cleaned and passivated. New thermostatic mixer, Hansgrohe shower head and grab bar will be installed as well.