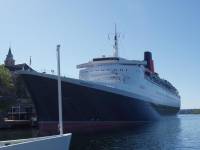 Well, there is at least one other reader of my blog! It is
Howard from Baltimore
, who I has been sending suggestions and tips based on his numerous experiences, and will also be on the December Crossing.
Howard dropped me a line to say (inspired by one of the reviews and also my recent addiction to QE2 books too) : "Wow, I just checked into your blog for the first time in about 2 weeks and it has exploded. Guess I'll have to start checking it each day.
Was reading the repost from Desirod, and his mention that Ted Scull and Stephen Card were on the crossing last year. As far as I know both will be aboard for the upcoming crossing as well.
I'm sure Ted will lecture at least twice about ocean liner history, and I know that Stephen will be introducing the coffee table book of his works created for QM2. He showed me many of the images last May, on a Bermuda cruise. The book was due out earlier, but was delayed to make it better I believe. You will definitely want this one, and I would not be surprised if it was priced at $100. He will of course be happy to sign it for you. The Bookstore onboard will become one of your favorite places".
To remind you
DESIROD
had commented on the December 2003 crossing: "There were lots of liner loonies too. Noted travel writer Ted Scull was on board, and Stephen Card: noted maritime artist".
I did some checking online about those 2 gentlemen and they certainly sound very knowledgeable.
*
TED SCULL
: Cruisemates.com
writes a profile about him saying: "Theodore W. Scull is a New York-based author, travel writer and lecturer specializing in maritime subjects and the New York region. Among six books published are 100 Best Cruise Vacations, The Top Cruises throughout the World for a Interests and Budgets, by The Globe Pequot Press, and Ocean Liner Odyssey 1958-1969, personal accounts of sea travels, by Carmania Press, Greenwich, England.
He is Contributing Editor at Travel-Holiday, and articles, with photographs, appear in nearly every issue of Cruise Travel magazine and regularly for Travel Weekly's Cruise Guide.. Scull writes a bimonthly column on the cruise industry in Ships Monthly, a UK publication, and has done numerous cruise ship reviews for Fodor's Worldwide Cruises and Ports of Call, Macmillan Travel's The Unofficial Guide to Cruises, Frommer's Caribbean Cruises and Ports of Call and for STAR SERVICE (Cahners), The Critical Guide to Hotels and Cruise Ships"

* STEPHEN CARD: He has his own site (click here ) and he writes: ""I come from a seafaring background," he explains. "My grandfather was in the Royal Navy, and most of the family was involved in some aspect of sailing. And I grew up in Bermuda, where you're never far from the ocean. I got to go on some of the ships when thay came into port. The first time I saw Rotterdam V was in May 1965. I was a little kid when she came into Bermuda and I got to go aboard. I was enthralled and never forgot that first impression."

Card became a navigator, then a ship's captain. "I came ashore to be a harbormaster in Bermuda in 1982." he says. "The idea of a career in art had never crossed my mind. But I'd always done a lot of sketching, and one day in 1984, I got a call from Nico van de Vorm. He was then the chairman of Holland America Line. He'd seen a painting I'd done of a ship, and asked me if I'd like to do portraits of the new Noordam and Nieuw Amsterdam. Now I'm a full time artist."

So both sound very interesting and a must hear while on board. The new book sounds good!!