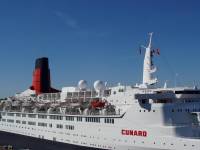 I realised that although I have put a lot of my thoughts, others thoughts and tips, I have not really put anything about the ship itself. So I visited the
Cunard site
and found a section where THEY write about the ship and thought that would be good to add!
So here it is:
* Gross Tonnage - 70,327 tons
* Dimensions - 293.53 x 32.06m (963 x 105.3ft)
* Number of funnels - 1
* Number of masts - 1
* Construction - Steel
* Propulsion - Twin screw
* Engines - Nine 9-cylinder medium speed turbo-charged diesels
* Service speed - 28.5 knots
* Builder - Upper Clyde Shipbuilders, Glasgow
* Launch date - 20 September 1967
* Passenger accommodation - 1,777
By December 1958
the question of a replacement for Queen Mary and Queen Elizabeth had arisen. Originally the plan had been to build two new liners with the help of Government subsidies. A Government committee, under Lord Chandos, was set up to examine the economic viability of this. The result was that the Government provided a grant of £18 million towards the building of one 75,000 ton vessel, known as the 'Q3 Project', to be ready for service in 1966. There was opposition to the plan as more and more passengers were crossing the Atlantic by air and the operating costs of such large liners were rising and could not be offset by fare increases. In 1963 the scheme was altered to build a slightly smaller liner which could traverse the Panama and Suez canals and would primarily be used for cruising.
Q3 contract was awarded to John Brown & Co
. and the keel was layed on July 5, 1965. The keel was launched by Queen Elizabeth II on September 20, 1967, and the ship was named Queen Elizabeth 2. The maiden voyage of QE2 was from Southampton to New York on May 2, 1969.
In 1982, with the outbreak of the Falklands War
, the British government requisitioned QE2 for service as a troop transport vessel. Conversion work began immediately with the addition of helicopter flight decks and a modern communications system. On May 12 Britain's 5th infantry brigade boarded her and set off for South Georgia. The ship arrived on May 27, disembarked the troops and then embarked the survivors of the HMS Ardent. Since British intelligence had learned that the Argentineans were using air reconnaissance to try and locate QE2, it left the same day.
QE2 arrived safely back in England on June 11 and work immediately began
on refitting her for commercial service. It was decided at this time that diesel engines would be installed to save the company £12 million a year in fuel costs. This major overhaul was done from November 1986 to April 1987 at the Lloyd-Werft Shipyard in Bremerhaven, Germany. Nine diesel electric engines, new propellers and equipment to capture heat expelled by the engines were fitted. Public rooms and passenger accommodations were also extensively refurbished.
Approximately 10 years later - in November/December 1996
- QE2 underwent an $18-million overhaul at the A&P Shipyards in Southampton. The scope of the project included work in passenger areas and maintenance behind the scenes. Significant upgrades were made to passenger areas, including the Princess Grill and Mauretania restaurants.
Also in 1996, QE2's transatlantic crossing time was extended from five to six days and arrival and departure times in Southampton and New York were changed to 8 am and 5 pm, respectively, to accommodate transfers between the ship and passengers' homes.
In 1997 there was a reduction in the number of transatlantic crossings
, from 24 to 18, and an increase in the number of days spent on cruises from 120 days in 1996 to 148 days.
From the Grand Lounge and the Queens Room to the renowned restaurants and the Golden Lion Pub, new furnishings, draperies, carpeting and woodworking enhanced the famous liner. In addition, Harrods - the London-based luxury department store - opened its first boutique at sea on board QE2.
In 1999, following the purchase of Cunard by Carnival Corporation,
QE2 was again the recipient of a massive refurbishment. The refit took place at Lloyd Werft Shipyard in Bremerhaven, Germany, from November 12 to December 11, 1999. From the Grand Lounge and the Queens Room to the renowned restaurants and the Golden Lion Pub, there are new furnishings, draperies, carpeting and woodworking throughout the famous liner. In addition, Harrods, the London-based luxury department store opened its first botique at sea aboard QE2.
"The QE2 is our flagship vessel, she embodies the essence of British heritage and all that is Cunard," said Deborah Nathansohn, Senior Vice President of Worldwide Sales and Marketing for Cunard Line. "With more than 160 years of tradition it is important that we retain that all-but-vanished experience that defines luxury ocean travel. We are preserving a piece of history that is the foundation for what has become the explosive growth of the cruise market."
1999 Enhancements include:
*
QE2 Dining Areas
The Queens Grill received new furniture and new carpeting, upholstery and lighting, as well as etched glass doors and a completely new galley. In addition to the refurbished Queens Grill, all QE2 restaurants were renovated. The Britannia Grill welcomes new carpeting, curtains, blinds, and newly upholstered chairs. In addition, a new dining room layout provides ease and comfort for all diners. The Princess Grill boasts completely new carpeting, curtains and upholstered banquette seating, as well as rich leather finish on the bulkheads. Following a makeover, the Caronia Restaurant displays the elegance and luster of an English country house, with rich mahogany paneling, new table lighting, crystal chandeliers, carpeting, curtains and chairs, as well as a new stereo system. New etched-glass doors and a "rainfall" pattern air-conditioning system eliminating drafts are welcome additions to this grand room. Glass doors mark the forward entry to the Mauretania Restaurant, which also boasts new carpeting, chandeliers and furniture. New automatic glass doors provide easy access from the pool deck to the Lido Restaurant, which also reveals a new buffet facility and re-upholstered seating, and the Pavilion Café was refit with new upholstered seating.
*
Public Areas
: Fresh carpeting and upholstery were added to many public areas including: the Chart Room, which also received a remodeled bar and new shutters; the Crystal Bar, which added a new canopy entrance to the Mauretania Restaurant; and the Quarter Deck and Upper Deck Promenades, which added intricately-detailed archways made of rich woods. The Queens Room received major treatment, including all new furniture and new royal blue carpeting interwoven with gold Tudor roses. The walls were re-paneled in mahogany, and the famed bust of HM the Queen will be relocated to the most prominent position within the room.The walls of the popular Golden Lion Pub received a new coat of paint, improved lighting, curtains, blinds and new upholstery. New hardwood flooring has also been incorporated into the area.The Grand Lounge displays new carpets, chairs, stage curtains and a theatre-style balustrade, as well as a new audio system to enhance the enjoyment of performances.The Board Room was completely refurbished, including new cabinets, lighting, furnishings, carpet, ceiling panels, and new bulkheads.The Purser's Office was completely rebuilt and re-configured to relocate all communication facilities here. This area now incorporates a new guest Business Centre, Cashier's Desk, Communications Centre, Bank, Mail Room, the Baggage Master's Office and the Security Deposit Facility.The Promenades on the Quarter and Upper Decks have new blue carpets, paneling and chairs. The Casino features new gaming tables, leather stools, carpets and new granite entrance way. Four Deck and Five Deck corridors and stairwells were re-carpeted and decorated with wall-coverings. Other enhancements around the ship include refurbished public bathrooms; new classic, teak steamer chairs; a re-designed photo gallery; re-carpeted gymnasium, and new directional signage.
Suites and Cabins
: Two new Grand Suites, category QS, were added. The Caledonia Suite (number 8200) is located on the port side of Boat Deck directly adjacent to and forward of the Queens Grill. This 575-square-foot suite features marble master and guest bathrooms, separate dining area and large picture windows. This suite is wheelchair accessible and offers ramped access to the Queens Grill. The Aquitania Suite (number 2149) is an expansive 777-square-foot suite located forward of the Midships Lobby on the starboard side of Two Deck. This suite offers marble master and guest bathrooms, a separate dining area and large feature windows. Measuring a generous 770-square-feet, the Carinthia Suite is an enlarged and enhanced version of the previous Midships Suite (number 2151) on Two Deck adjacent to the Midships Lobby on the starboard side. This suite also has two marble baths, separate dining area and large windows. In addition, there are two new Princess Grill category cabins (numbers 2154 and 2153) on 2 Deck.All suites and cabins have been refurbished with elegant décor including new carpeting, bedspreads, valances and draperies. New color schemes include tan and yellow in the Penthouse suites and Deluxe staterooms, burgundy in the staterooms on One and Two Decks, blue in the cabins on Three Deck, and burgundy in the staterooms on Four and Five Deck. All existing furnishings have been re-upholstered.
QE2, the last of the great Cunarders built for transatlantic service, has been constantly in the eye of the world's press for more than 30 years and is still in service today.