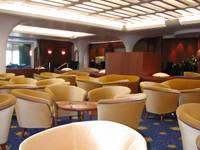 This is the 1st in a series of reviews of the QE2 that I have come across online that I found interesting and helpful. And in many cases got me excited.
This one is on the
Cruisecritic.com site on the Community Section
and was posted by a
Richard Schmidt
about a transatlantic in September 2003. He was in a C3 cabin crossing from NYC to Southampton. He will be on the crossing we are on!
He wrote:
"Crossed to England on the QE2, departing New York September 15, 2003 and arriving in Southampton October 1.
The voyage was was one the most enjoyable travel experiences I have had. The ship herself is beautiful, clean and classically elegant. Once aboard you are reminded of the old 'liners of legend. The teak deck promenade includes a spectacular open-air view forward over the bow, a feature missing on the new Queen Mary 2 (you can look forward, but are confined behind glass windows, shut away from the salt air and the sound of the sea).
I remember standing alone one evening at twilight looking out at the Atlantic as it rolled under the ship, watching the fog slowly envelop the bow and listening to the fog horn sound. The experience was transcendent. For a few moments I felt as though I could have been on any ocean liner at any time in the last century. That one experience alone was worth the price of the passage.
The service aboard was impeccable. After 6 days of being waited upon hand and foot it took me a few days to adjust grudgingly to life on land, where it is "every man for himself". The meals in the Caronia restaurant were excellent, and the Chart Room became my favorite after dinner destination. Nothing like a fine Cuban cigar, good brandy, and great conversation with newfound friends to top off the evening.
There was always more to do in the day than could be accomodated. I read in one of the teak deck chairs while the Atlantic slid by, went to lectures on marine archeology, attended an art auction, played shuffleboard, lounged in the jacuzzi, swam, and relaxed so completely I felt like a new man.
I will be returning to the QE2 this December when she crosses from Southampton to New York, repositioning herself for the 2005 season. While I am sure I will someday sail on her around Europe or the Med, I have no intention of missing out on a classic trans-Atlantic crossing on this fine ship. She is truly the last of her kind, a legitimate trans-Atlantic, blue water ocean liner. When she is gone the seas will be left to the floating condominium complexes that are today's "cruise" ships.
I would recommend to anyone that they give themselves the opportunity to be a part of a more elegant era of sea travel, and experience the QE2. They won't regret it
."