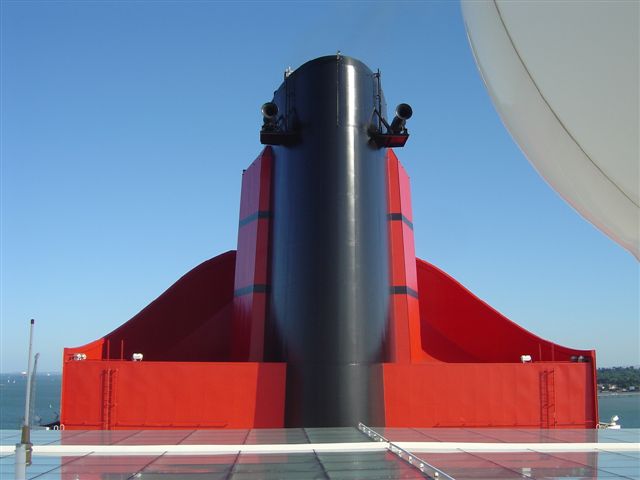 This article appreared on Friday 13 April on the dailyreportonline.com site

"IN DAYS GONE BY, young Americans of a certain social status often spent months abroad on the "Grand Tour," exploring the capitals of Europe and traveling both ways by ship. Today, Queen Mary 2, flagship of the Cunard line, is the only vessel making regular transatlantic crossings; her passengers include honeymooners, vacationers, and retirees—and a surprising number of professionals combining business trips with a holiday abroad. QM2 replaces Queen Elizabeth 2, still in service but no longer making regular transatlantic runs. The original Queen Mary is now a Long Beach, Calif., hotel and tourist attraction.

QM2 is one opulent queen. She was built with the most extensive seagoing wine cellar, the largest dance floor of any passenger ship, 14 bars and lounges (one devoted exclusively to champagne, another to cigars and cognac), luxe boutiques (Chopard, Dunhill, Harrods, Hermes) and the world's first floating planetarium, offering daily educational programs about the stars.

Promenade decks, once places to see and be seen, often serve as jogging tracks on modern ships. QM2's one-third-mile loop is the longest at sea. Exercise buffs will also enjoy the basketball court, yoga and Pilates classes, and a fully equipped fitness center with 36 stations.

Foodies will be grateful for those exercise options since eating—heartily and often—can consume much of the day. QM2's vast kitchens (sign up for a tour to see them) serve well-prepared international cuisine in the 1,351-seat, three-deck-high Britannia, the main dining room. Guests in the swankier accommodations (some with doorbells, private decks and personal butlers) dine in the intimate Princess and Queen's Grills, where elaborate meals are created to individual specifications. The Britannia and Grills also offer light spa cuisine.

For a change from the glitter and bling in the dining rooms, the Golden Lion Pub serves pub grub amid dart games, karaoke contests and football (soccer) on the telly. Indoor and outdoor buffets are also an option. In the evening, three informal little restaurants offer Italian, Chinese and traditional British food; and at a fourth, the Chef's Galley, chefs banter with a small group of diners as they demonstrate cooking techniques for that evening's set menu.

For special occasions, a surcharge of $30 at dinner and $20 at lunch is worth it for the chance to dine in the eponymous Todd English, run by the chef famous for several world-class eateries, including Olives in Boston. And every afternoon, QM2 bows to the age-old sailing tradition of elegant afternoon tea, complete with finger sandwiches, scones with clotted cream and china teapots.

Lolling in the aquatherapy pool, perhaps after a teeth whitening and a hot stone massage at the Canyon Ranch Spa, can cap a day of sybaritic indulgence. The trendy spa has a whopping 20,000-square-foot onboard facility spread over two decks.

Those more interested in scholarly pursuits will find plenty of possibilities listed in the ship's daily newspaper. Experts from Oxford University give in-depth lectures on everything from social history to piracy, and there are talks by such luminaries as best-selling author Frank McCourt and Janet Eilber, artistic director for the Martha Graham Dance Co. The Royal Academy of Dramatic Art offers classes in movement, focus and the vocal requirements of acting. And anyone with the self-discipline to work will find a fully equipped Cyber Centre offering computer terminals and quiet workspace. The ship has 14 Wi-Fi hotspots and a full range of business services.

At night the two liveliest spots are the G32 Nightclub, which opens at 10 p.m. with live rock and jazz bands and dancing, and the 6,000-square-foot Casino, open at 9 a.m. when the ship is at sea and remaining open until the wee hours. Twelve gambling tables include blackjack, American roulette, craps, Caribbean stud poker, three card poker and mini baccarat. Novices who want to play will feel comfortable with the lower-stakes games and 115 slot machines, including reel slots and traditional video poker.

Passengers making the eastward transatlantic crossing embark at the snazzy new passenger terminal in Brooklyn, N.Y., and have six nights to wine, dine, gamble or gambol before disembarking at Southampton, England (or, on some trips, eight to Hamburg, Germany), where connections can be made to anywhere in Europe. QM2 spends the chilly winter months traveling to the Caribbean and South America and makes fall cruises to New England and Canada. She will make her first around-the-world cruise in 2007. Transatlantic trips resume this month. Reservations for all sailings should be made well in advance, although it's occasionally possible to score a last-minute bargain."